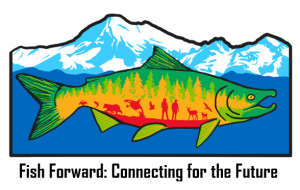 The WASHINGTON – BRITISH COLUMBIA chapter of the AFS invites you to attend the 2023 annual meeting from March 20-23. The meeting will be held at the Four Points by Sheraton Bellingham Hotel and Conference Center. As this will be our first in-person chapter meeting since 2019, the theme of the conference is "Fish Forward: Connecting For The Future". We hope you will join us!
---
EARLY BIRD REGISTRATION
Early bird registration ends January 31, 2023.  
---
EB MEMBER REGISTRATION = $325
---
EB NON-MEMBER REGISTRATION = $375
---
EB STUDENT REGISTRATION = $125

---
SINGLE DAY REGISTRATION = $200 (No Early Bird)
---
OFFLINE/GROUP/CHECK REGISTRATION.
If you want to pay by check or other offline process, please reach out to the treasurer, Sabrina Haney, by email ([email protected]). 
---
DEADLINE EXTENDED: FEBRUARY 10th, 2023
As we prepare for our upcoming conference in Bellingham, March 20-23, we invite you to submit an abstract for oral presentations or for the poster session.
If you have any questions about the symposium, please contact WA-BC Vice-President Sean Simmons by email ([email protected]) or by cell (250-613-7727).
---
THREE FREE WORKSHOPS:
R for Beginners — Hosted by Hayley Nuetzel (

[email protected]

)
LF PIT Antenna Design, Construction and Evaluation — Hosted by Warren Leach (

[email protected]

)
Learn How To Run Citizen Science Projects With Anglers — Hosted by Sean Simmons (

[email protected]

)
To learn more about these workshops and sign-up, click here.
---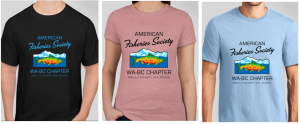 ---
CEDARHOLM SCHOLARSHIP
For 2023, the Cederholm Scholarship Endowment Fund plans to award three $1,000 scholarships, one each to: an undergraduate student (pursuing a bachelor's or associate's degree); a student pursuing a master's degree; and a student pursuing a doctorate. To learn more about the scholarship, click here.
If you are interested in applying, please download the application form here and submit the completed form, along with the required documents, to WA-BC AFS Past-President, Alf Haukenes by email.
Applications will be accepted through February 20, 2023.
---
AWARDS
The WA-BC AFS Chapter would like to return to the tradition honoring our members' contributions at our annual meeting in March, 2023.  Please consider submitting nominations for the following awards to be announced at our annual meeting.  Nominations should include the name of the nominee and a brief description (< 200 words) the activity or activities that prompted the nomination.  Please submit nominations to Alf Haukenes ([email protected]) by February 20, 2023.
Worthy Coelacanth Award: First presented in 1984, the award goes to a senior member (over 55 years young) of the WA-BC Chapter who has made an outstanding contribution to fisheries management and science.
Volunteer Organization: For a volunteer organization that has made exemplary contributions to fisheries conservation, education, or science.
The Fish Gaffe: This award recognizes the most noteworthy faux pas by a Chapter member each year. [The first recipient was Jeff Cederholm for his outstanding collection of self-inflicted typos in a previous AGM agenda].
Certificate of Appreciation: For a member, non-member, or organization who has significantly contributed to the betterment of the Chapter or it's activities.
Certificate of Achievement: For a Chapter member who has demonstrated significant professional achievement, consistent with AFS goals and policies.
Conservation Organization of the Year: For an organization that has significantly contributed to a program or activity for conservation of fishery resources or habitats.
Meritorious Service: Awarded to a Chapter member who has made substantial contributions to the success of the Chapter.
Tommy Brayshaw Junior Conservation Award: Established in 1995, presented to someone 16 years or younger who has meaningfully involved in some form of fish conservation work.
---
HOTEL AND TRIP PLANNING
HOTEL: Four Points by Sheraton Bellingham Hotel and Conference Center  (714 Lakeway Drive, Bellingham, WA, USA, 98229)
ROOM RATES: $125 Run of House and $98 Run of Government House Rates
DEADLINE: Special room rates expire February 23, 2023, or until they sell out.
SPECIAL RATE RESERVATIONS: All reservations for the block room rates must be made through the group room manager (Karyn Seaverson) direct by calling availability 360-685-8103 or emailing her at [email protected]
---
SYMPOSIA TOPICS
Angler Engagement And Citizen Science
Coded Wire Tagging
Connecting With Our Past
Dam Breaching – What Have We Learned?  
Drivers Of Ocean Productivity
Hatchery Supplementation
Invasive Species: Interactions With Native Species And Management Strategies To Address Impacts
Investigating Aquatic Physiology As A Tool For Understanding Adaptation and Conservation
Making Critical Connections For Our Native Char (Bull Trout and Dolly Varden)
Perspectives on Management, Habitat, and Research of the Nooksack Watershed
Overcoming The Barriers: Now It's An Emergency 
Pinniped Predation
Skagit River Seeking Balance Between Human Needs
Sockeye In The Pacific Northwest and British Columbia
We will be announcing a call for oral presentations and papers shortly.
---
TRADE SHOW
To participate in the trade show, please contact Jeff Fryer by email ([email protected]).
For more information, you can download the Trade Show package here.
---
NOTES
CHILDCARE:  options are currently being explored. Stay tuned for updates.
STUDENTS: Please bring your student card to the conference for verifcation.
REFUNDS: on registration fees are available until March 3, 2023. Processing fee may be applied.
DONATIONS: