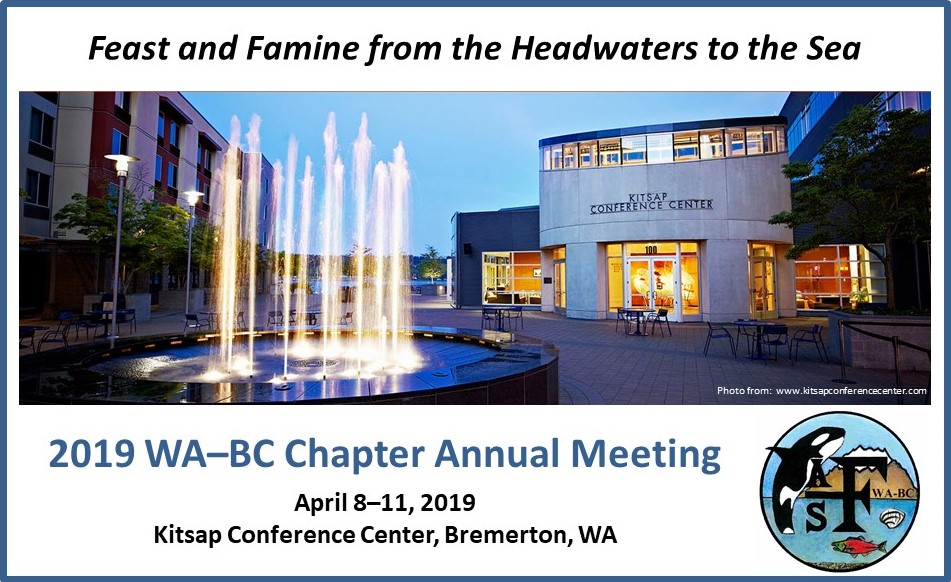 Being an aquatic organism in the Pacific Northwest is a constant struggle, whether one inhabits the headwaters or the sea. Some, like sea lions, are enjoying a moment of "feast" where populations are stronger than ever, perhaps even to the detriment of other species. But others, like Southern Resident Killer Whales and steelhead, are on the losing side experiencing "famine" and facing extinction. We invite speakers to discuss potential causes for recent population trends, brainstorm ways we can help tip the scales for populations stuck in a cycle of famine, and share their experiences on the best ways to communicate this critical information to policy-makers.
Registration- click here to register – For those attending the 2019 Salmon Recovery Conference on April 8-9, we are offering a 25% discount on registration fees since you will be missing some of our meeting.
Workshops
Spawning run – Tuesday, April 9, after the plenary session
---
Each year the Washington-BC Chapter of the American Fisheries Society hosts an Annual General Meeting (AGM). The main purpose is to gather fisheries professionals together to share their research, programs, tools, and to network! This is also a chance for non-members to meet the Executive Committee and other members to learn more about the benefits of joining our chapter. Everyone is welcome and encouraged to attend the business meeting luncheon to learn about the Executive Committee's activities over the past year, status of the chapter, and plans for the future.
Want to help out? Here's where we can always use some extra hands:
Fundraising: Contacting potential sponsors and collecting donations for the Silent Auction
Trade Show: Contacting vendors and assisting with set-up
On-Site organization: Including registration desk, poster/sign setup, A/V assistance, Spawning Run assistant
Publicity: This one is everyone's job! If you know of a great advertising avenue we may have missed, please let us know!
If you have any questions about the upcoming AGM or want to volunteer, please contact the current President-Elect (see Executive Committee members here).
---
Sponsors
Click on the logos to check out our sponsors' websites.
Ling Cod Level
Rockfish Level
Contributor Level
---
Trade Show
Click on the logos to check out our trade show participants' websites.
---
Auction Donations
Click on the logos to check out our silent auction donators' websites.